Queretaro
Queretaro is the choice of 100s of United States, Canadian, and European companies establishing a Mexico manufacturing platform or setting up a distribution center in Mexico. The city of Queretaro has a population of nearly 1 million and is the principal population center of the State of Queretaro.
Development
Until the late 1990's Queretaro was an agricultural center surrounding a colonial historic district. Its moderate climate and natural beauty also provided an oasis for many people wanting to get away from the crowds of Mexico City. However, in about 1997 Queretaro began its industrial development in earnest.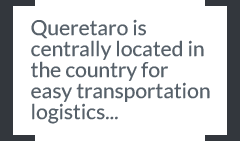 Manufacturers began a migration from Mexico City north to Queretaro in response to the high crime rates, expensive labor, difficult infrastructure, and other challenges of Mexico's capital. Simultaneous with this exodus from Mexico City, foreign assemblers and industrial companies targeted Queretaro for its ample, cost-efficient labor force, exceptional quality of life for expatriates, and proactive business-friendly state government.
Logistics
Queretaro is an excellent choice for companies wanting to distribute throughout Mexico as well as for firms intending to manufacture in Mexico for logistic reasons. Queretaro is an easy 2.5 hour drive from or to Mexico City with well maintained toll roads making deliveries to or from the Federal District economical and time efficient.
Further, Queretaro is centrally located in the country for easy transportation logistics for intra-country efforts and many companies select Queretaro because it is on the NAFTA Highway with its good North-South access either to border cities or on up into the United States.
Industrial parks in Queretaro include Queretaro Aerospace Park, O'Donnell El Tepeyac, Queretaro Industrial Park (Parque Industrial Queretaro), Bernardo Quintana, El Marques, Finsa and others with a good supply of available buildings for lease and for sale.
Industries
Nearly every manufacturing sector is represented in Queretaro with a heavy concentration of automotive suppliers, some aerospace sector Tier 1 and Tier 2 suppliers serving the Queretaro Bombardier plant, agricultural products manufacturers, consumer goods producers, and others as well as packagers, bottlers, and logistic companies serving local Queretaro customers as well as customers elsewhere.
Infrastructure
Infrastructure, particularly as relates to electricity, can be quite challenging everywhere in Mexico. What companies take for granted in their home countries is an entirely different issue in a country where the federal government owns the electrical system and that government hasn't had the funds to keep up with the electrical requirements of a fast-growing manufacturing sector. That said, Queretaro is better than many Mexico cities with electricity and water typically available in the principal industrial parks. Roads and highways are among the best in the country. Five principal industrial parks house the majority of foreign companies located in Queretaro.
Current Trends
Industrial Queretaro is growing at a rapid pace as compared with country averages. The Mexico City exodus is quickening, foreign OEMs are demanding their tier suppliers locate close to their plants and Queretaro is central to many such OEMs in a variety of sectors.
The most visible industrial trend in Queretaro is the growth of its Mexican Aerospace sector. Queretaro is home to Bombardier, the Queretaro Aerospace Park, and the longest runway in Latin America. An aerospace training school is a big draw as skilled aerospace workers in Mexico are at a premium. As the worldwide aerospace industry focuses on Mexico for its North American manufacturing platform, Queretaro is winning its share of tier suppliers and other aerospace related business.
Whatever your industry if you are going to assemble products in Mexico, manufacture for foreign or local markets, or if your firm is a supplier to OEMs elsewhere in Mexico, Queretaro is a solid choice for American industries and European manufacturers.
Contact Us for your Queretaro Real Estate Needs – [hidden email]